Aura
Nature Soundscape Player
freeware version 2.8.10d.213
for Windows,
for Mac OS X,
for Linux.
Belorussian, Bulgarian, Czech, English, French, German, Italian, Japanese, Korean, Polish, Portuguese, Russian, Serbian, Chinese simplified and traditional, Spanish, Ukrainian
languages are embedded
Aura is a desktop utility that uses soothing nature sounds in order to create a comfortable atmosphere.
The program appears as an icon in the system tray and plays real delectable sounds of a forest.
A click on the icon turns on or off the sounding. Right click opens the Aura Control Board.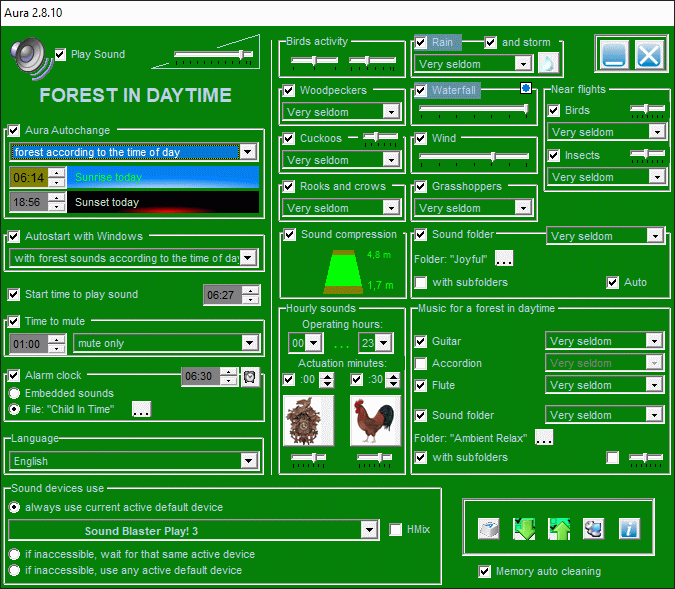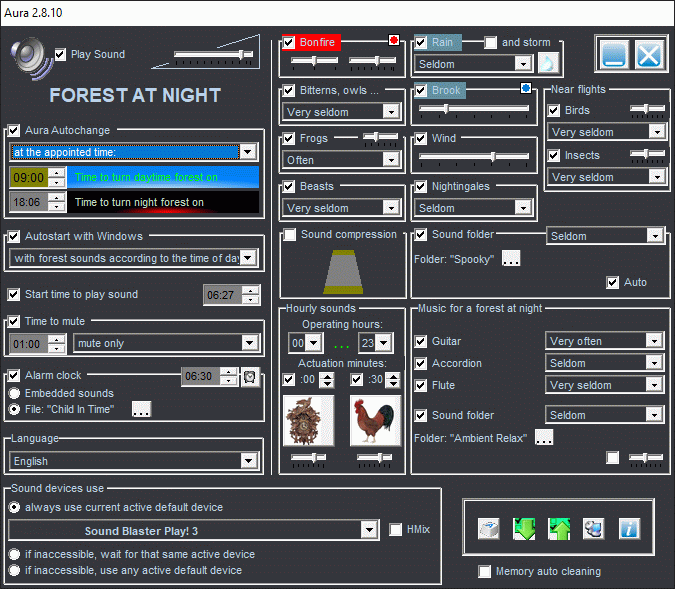 Here you can select between a daytime and nighttime forest environment
and also customize the frequency of acoustic elements (birds, insects, frogs, beasts, wind, rain etc.).
You can assign your own sound files or playlists to intersperse on soundscape, set alarm function and sounds,
mute or sounding autostart of the program, autochange of auras, scheduled computer mute/sleep/shutdown option,
system hotkeys, modular live update, choose a language for user interface.
Move your computer outdoors!
"Aura is a complete set of nature sounds
straight in your system tray;
sit back and let the sounds of the forest
unwind you after a long day's work.
Easily customizable, features hotkey support
and it's all free of charge!"

For self-reliant design of soundscapes
Version
Size
User's optional nature sounds
1&2
1,495 K
User's optional nature sounds
3
10,503 K
User's optional nature sounds
4
11,571 K
User's optional nature sounds
5
11,970 K
User's optional nature sounds
6
12,804 K
User's optional ocean sounds
1
23,154 K
User's optional ocean sounds
2
27,633 K


"In the rush to get things done,
many computer users do not have the time to take a break and relax.
Using the power of soothing nature sounds,
Aura aims to create a comfortable and peaceful working environment
or help you unwind at the end of a hard day"


"Sounds are extremely crisp and customizable"
"Absolutely beautiful"
"Very cool!"
"This program adds a calming effect to one's computer"
"It's very native, sounds are realistics"
"I turn Aura on every day for my budgie - he loves it"
"Great! I love the sounds"
"I love the customization and the birds are great!"
"The expression, the revelation of nature's musical poetry"

User's optional music sounds
1 - 57
2,048,982 K
User's optional music sounds
58 - 68
2,654,815 K
User's optional music sounds
69

230,143 K

User's optional music sounds
70

452,709 K

For self-reliant design of artworks
Version
Size
Landscapes by Serge Eleferov
1
9,055 K
Creatures by Serge Eleferov
1
93,808 K
Landscapes by Nicolai Bryantsev
2
173,232 K
Plants by Nicolai Bryantsev
2
92,219 K
Animals by Nicolai Bryantsev
1
17,422 K
Insects by Nicolai Bryantsev
1
7,194 K
Butterflies by Nicolai Bryantsev
1
133,035 K
Birds by Nicolai Bryantsev
2
34,145 K
If on some reason you can't use Live Update from the program,
please check in Aura Information for missing or old components,
choose them from the following table, download and run.
Please begin from the Program Shell:
Update name
Version
Size
The program shell update
2.8.10m
2,478 K
Background sounds of daylight forest
17
1,419 K
Winged daylight foresters
23
6,001 K
Rooks and crows in daytime forest
9
1,114 K
Woodpeckers
1
361 K
Cuckoos
1
1,076 K
Grasshoppers

6

16

,

3

35 K
Background sounds of night forest
21
8,747 K
Winged foresters in the night
19
4,066 K
Nightingales
2
2,427 K
Frogs
1
3,686 K
Beasts in the night
6
1,241 K
Near flights of birds
4
819 K
Near flights of insects
7
1,188 K
Wind in a forest
1
2,238 K
Brook and waterfall
6
538 K
Rain
5
2,930 K
Thunder Roarings (sound only with Rain!)
7
8,237 K
Bonfire
5
585 K
Guitar
44
117,788 K
Accordion
11
44,637 K
Flute
11
18,049 K
Hourly sounds
4
2,893 K
Sounds for alarm clock
5
5,472 K
---